As the name suggests, this mini did have a character of it's own, but, as the following text and pictures may demonstrate, not the most pleasant of ones !
The story begins with a speculative note being placed under the one remaining windscreen wiper of a rather battered Mini 30th anniversary edition.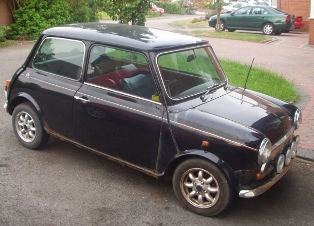 About 4 weeks later I get a phone call, "You wanna buy this mini ?". A quick scratch of the brain cell connected the call with the 30, to which the reply, "I'll give ya 50 quid for it mate" was agreed upon.
Two days later, me, a friend and a Land Rover, went to retrieve said mini. As it was still on all four wheels, and only had a little way to go, a towing pole had been aquired for the removal. I wont go into the finer details of the deal, but needless-to-say, I returned home with one mini, documentation and my 50 quid intact.
Mini for nothing ( I'm sure there's a song there somewhere ! )
Outwardly there seemed to be very little wrong with the car, but closer examination showed major flaws in the integrity of the shell. Both sills completely gone, Wings, A panels, rear arches and scuttle were all suffering from the ravages of rot. The only option was to cut back until solid metal was found.